Industrial Carbon Capture
Capture technologies, transportation, sequestration, CO2 to products and EOR
Almost every item of daily use such as steel products, plastics, food grains grown using fertilizers or cement and concrete used to make residential and commercial buildings involve the use or owe their origin to fossil fuels and are associated with carbon emissions. These "industries" account for 30% or more than 10 GT of CO2 emissions worldwide and are very difficult to decarbonize with renewables given the energy intensity and reliability required or the integral role of fossil fuels in the production process itself.
The role of Carbon Capture Utilization & Storage (CCUS) is critical to achieving deep & meaningful reductions of CO2 emissions from these hard-to-abate industries such as refineries, cement, iron & steel, power, chemicals & petrochemicals. CCUS technologies are commercially proven & established and, when appropriately integrated with upstream feedstock blending, capture point optimization & gas conditioning and downstream storage, EOR & even conversion, can lead to GT scale carbon capture at a commoditized level of cost capture of US$ 30 – 40/tonne. When combined with renewable energy or feedstocks such as biomass, plastics and MSW and extant policy and tax incentives prevalent in many geographies, CCUS can provide a scalable, sustainable and economically viable pathway to "net-negative" emissions.
Commercially proven industrial scale CCUS technologies can be broadly divided into two categories, pre-combustion or post-combustion technologies, depending on the carbon capture point or the CO2 source they target.
Dastur's approach, while based on a deep understanding of technology and our IP, is business and system-driven, wresting on the following key tenets:
While prima facie post-combustion technologies seem uncompetitive to pre-combustion carbon capture technologies, post-combustion technologies still have an important role to play in ensuring deep carbonization (90%+) of various industrial sectors. Dastur Energy is designing industrial carbon capture systems for a wide variety of industrial installations in North America, the Middle East and Asia, involving a combination and selection of different types of technology categories and types at various carbon capture points, combined with suitable gas conditioning and carbon disposition schemes. The goal is to ensure that the proposed schemes achieve deep decarbonization at scale with a competitive overall carbon capture cost offset with the revenues from EOR, by-product recovery or conversion into downstream products.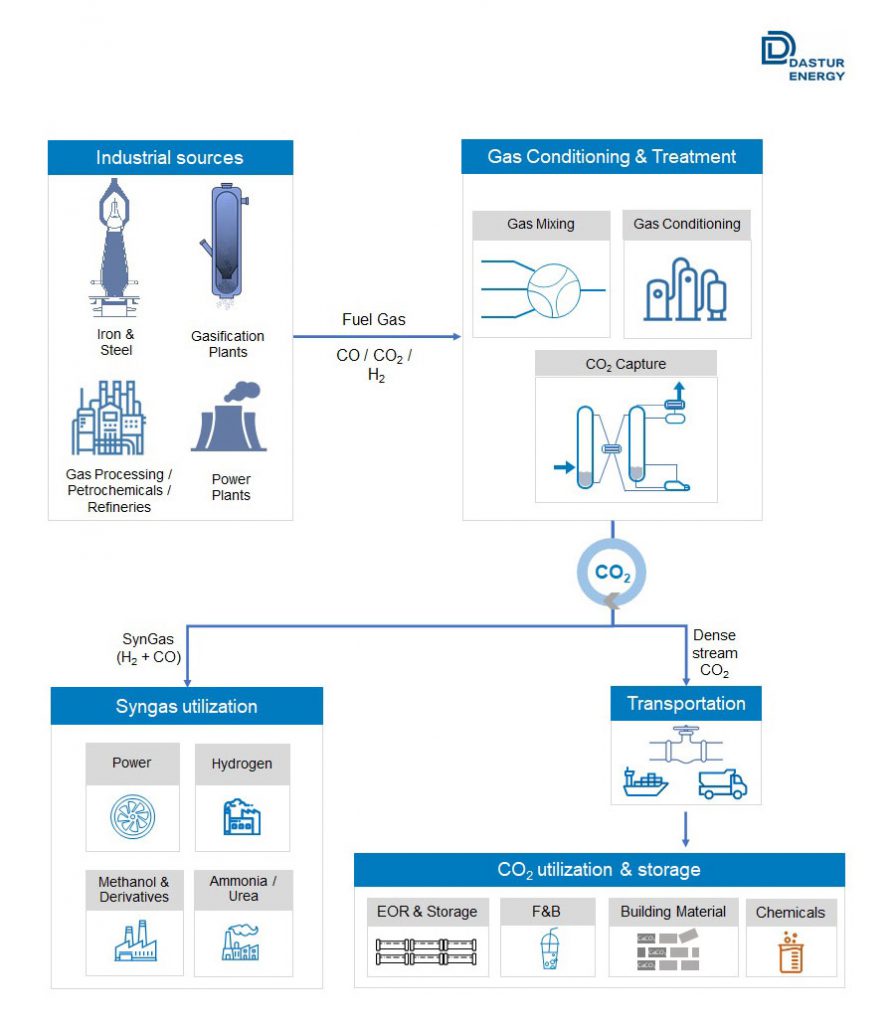 Dastur's approach, while based on a deep understanding of technology and our IP, is business and system-driven, wresting on the following key tenets: